Greendelta with Second International Rice Festival
Greendelta invited to join to Second International Rice Festival in Vietnam from 8-11Nov2011. This festival was organized in Central Mekong Delta where is central planting rice in Vietnam and there is also many khmer farmers living and working in the direct field.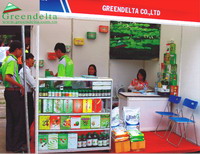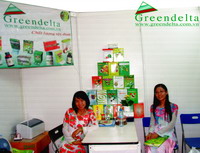 In this occasion, there was many visitors, rice planters, khmer farmers and agriculltural scientists together with governmental officers are very interested in Greendelta products. Many farmers and khmer people used these products recently-agreed that these products make higher rice productivities and more income for rice planters but invested cost is same or even lower comparing last time using traditional method.
In this festival, Greendelta introduce to participants the product line Micronutrients such as Deltamicro, Feticombi, product line called correctors such as Greendelta, Canximax, Deltasolu-K, Combisolu-M and Amino-Micronutrients called Chelax. These products line make peole very interested in and supprised about benefit of using these products. These products make rice better quality, higher yield and stronger-heavy-good looking rice.
Many companies and consumers who do exporting rice to oversea and distribute to local market, also agreed that Greendelta products make rice better quality, longer storage and nice smell-taste, therefore they make more profit than normal.
Greendelta would like to supply these high quality products from which will bring more profit/income for planters and increase highest quality and yield. More than that with hope Vietnamese rice more and more famous in the international market.