Greendelta evaluated and accepted by Khmer farmer in Vietnam and Cambodia
Greendelta are invited to attend the festival's commercial areas in the Khmer people between Vietnam and Cambodian Mekong Delta in Vietnam-Cambodia Border gate -Tinh Bien/Angiang.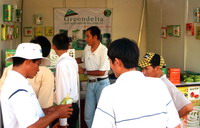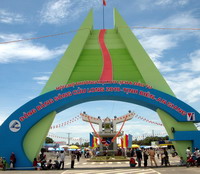 Here's two fellow Khmer of Vietnam and Cambodia and they are really interested in understanding more thoroughly the product line of Greendelta. A majority of Khmer people in mountain region 7/Angiang, Kien Giang, Ca Mau and Khmer people in Cambodia have used the product of Greendelta and also really surprised and won much attention to the product line and product quality of Greendelta. They have absolute confidence in quality and have purchased many products to lean gradually won for rice and fruit and vegetables in this region.
As agents in Cambodia, Phnom Penh, Koh Kong, Battambang, Stung Treng, Banlung, met and formally cooperate fully with Greendelta for distribution and further development of products Greendelta in Cambodia is a lot of potential. Especially with the unique product line such as Deltamicro, Feticombi-5, Gronta, Utah using for rice, vegetable and corrector range such as Greendelta, Canximax, Deltaforlia, Nitroforlia, Deltasolu-K, Combisolu-M and line Chelax actually completely conquered and business enterprises operating in the agricultural sector in Cambodia.
Greendelta actually contribute a very small hope but a breakthrough in the production of Agricultural Khmer compatriots two countries where the Mekong Delta have large potential for rice production in Asia and the largest supply of vegetables for nearly 40 million people in this region and for export later.
Greendelta brought to farmers the technological advances in nutrition plants which chelate, Ever ever for the Khmer people and wish purposes only wish Khmer compatriots on a rich on the land of their own.